Home → Tips → Health in Machu Picchu
Machu Picchu is located in jungle area where the presence of mosquitoes is characterized, the itching may cause some discomfort such as itching and irritation; therefore, so is recommended the use of a good insect repellent, you can find it at any pharmacy and / or pharmacy in the city of Cuzco and Machu Picchu town.
In addition, those with the fragile stomach, if you have a disease or simply want to prevent any; should consider the following tips for your visit to Machu Picchu: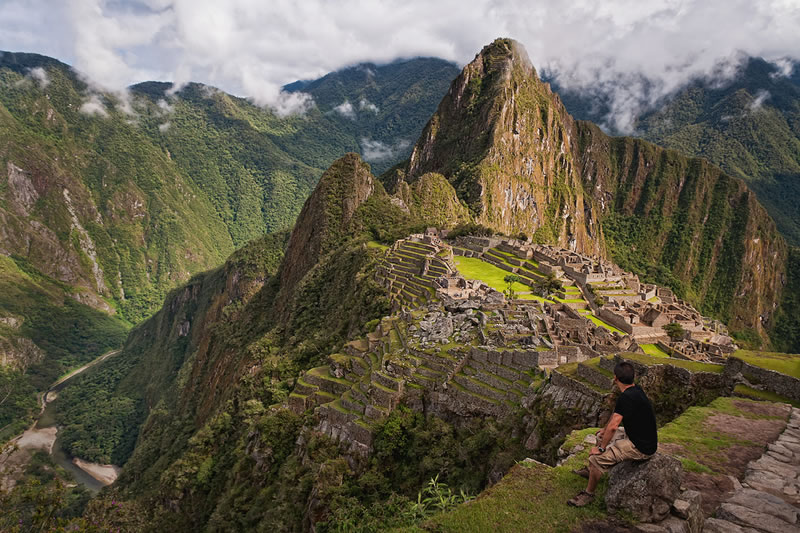 Panoramic view of Machu Picchu
What hygiene advice should I take into consideration?
The change of climate, altitude, environment, eating habits, among others, require some rules of hygiene and sanitation; that every traveler should know:
Do not drink water from the tap, consume only bottled water (verifying that it is well sealed) or boiled water.
Avoid dairy products, unless they have been previously pasteurized.
Avoid ice in different local, if not of good quality, usually it made of untreated water.
Avoid consumption of vegetables, meat and fish on the premises of unhygienic appearance.
Raw foods like salads are safe only in restaurants.
Always check the expiration date and the condition of the food.
Do not walk barefoot.
Sanitize or wash hands frequently, preferably with antibacterial soap.
Buy fresh fruit from the markets or grocery stores, remember wash them before eating. The fruit is always the best alternative; however, beware of some fruits like mango is very good, but could have an upset stomach if consumed in excess or if previously been exposed to the sun.
To whom the trip to Machu Picchu is advised:
It's possible the visit to high-altitude locations without consulting your doctor, people who suffer from the following diseases:
Circulatory problems such as arterial hypertension, cardiomyopathy.
Respiratory problems such as asthma, emphysema, or recurrent bronchitis.
What should I know about vaccines for Machu Picchu?
Of all the recommended vaccinations for Peru, are few of them that are recommended for travelers who are planning to visit Machu Picchu (Lima and Cusco) during his stay in Peru.
Then we will describe you the vaccinations which probably need and those who can usually ignore to travel to Cusco and Machu Picchu. The information that we provide is only a guide, but not a substitute for professional medical advice. Consult your physician before traveling to Peru.
Vaccines recommended for Machu Picchu
The following vaccines are recommended for all travelers to Machu Picchu. It is possible that you have already received some of these, but revaccination may be necessary in some cases:
Typhoid.
Hepatitis A.
Measles, mumps, rubella (MMR).
Diphtheria, pertussis, tetanus (DPT).
Other routine immunizations; chickenpox vaccine (varicella), flu vaccine every year.
Considerations of low or no risk for Machu Picchu
Yellow fever – According to the CDC (Centers for Disease Control and Prevention), travelers who are limiting their travel to the cities of Lima, Cuzco and Machu Picchu do not need this vaccination.

Rabies – It is unlikely that a doctor recommend rabies vaccine for a short trip to Machu Picchu, unless participating in specific activities.

Malaria – There will require antimalarials, for a trip to Machu Picchu; unless that Peruvian Amazon is included in your travel itinerary. According to the CDC, No risk of malaria for visitors who visit only Lima, the coastal areas south of Lima, Cusco, Machu Picchu and Lake Titicaca in the highlands.

Dengue – No dengue vaccine; prevention is based on avoiding mosquito bites. Cusco and Machu Picchu are low risk areas.
Other health concerns to Cusco and Machu Picchu
Altitude sickness – Cusco is located 3,399 meters making altitude sickness a real concern. So we recommend acclimate upon arrival. Machu Picchu is located just below the limit at which altitude sickness usually occurs. The classic Inca Trail to Machu Picchu, however, rises to a height of risk.

Diarrhea – Diarrhea is a common disease in Peru, due to the sensitive stomachs of some travelers, sensitive to changes in cooking the food, to prevent this disease avoid eating heavy meals until your body gets used to the new food and climate change.
By Ticket Machu Picchu – Last Update, 25-11-2015