Home → Tips → Hot spring at Machu Picchu
Machu Picchu Pueblo has hot springs, it is 800 meters from the square of this town also known as Aguas Calientes, these thermal baths are located on the banks of the river Vilcanota between mountains that rise like green walls for over 400 m; the river has an approximate width of 5 m, there is the presence of plutonic rock and recent deposits containing sandy material, product of the weathering of rocks; landslides are caused by the high speeds of the currents and the presence of a small lake called the Leonera when overflow, causing more landslides.
The hot springs are the product of a heat source with magnetic or volcain origin even very dormant volcanic known since pre-Inca times. They are waters that emerge from underground sulfur and sprout in different temperatures from the rock and are conducted grounds container and pools this water look dirty but is the effect of the sulfur. The temperature of these waters varies between 38º C and 46º C.
These baths are complementary attractive to the visit to Archaeological Park of Machu Picchu, visitors usually not resist the temptation to visit these baths, the ideal time for visiting the hot springs is after your visit to Machu Picchu, Inca Trail or any alternative trek; will be ideal for relaxing the body after physical effort.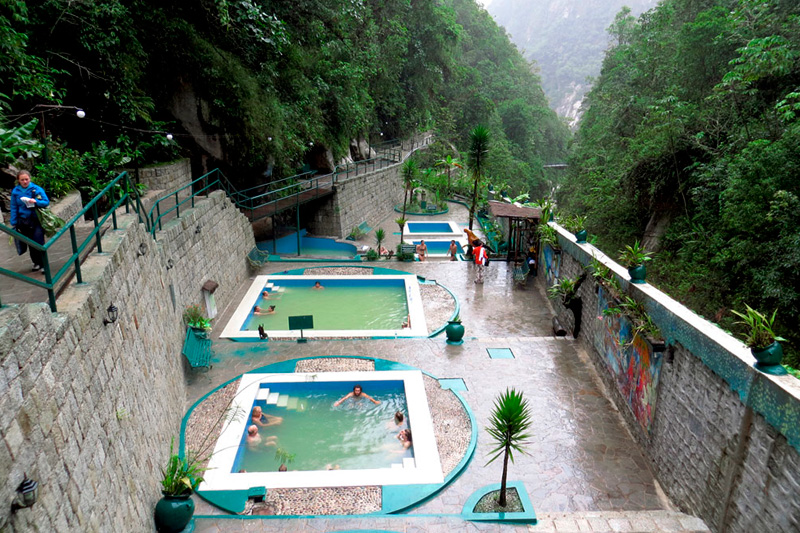 Hot Spring of Machupicchu Pueblo
(photo taken from the entrance door)
Benefits:
For the chemical composition and temperature of the water has healing properties for certain diseases, such as: arthritic, rheumatic, skin, stress. Among the benefits that provide these waters:
Improves metabolism.
Release toxins.
Relaxing.
Prevent high blood pressure.
Increases oxygenation.
Aids digestion.
In some cases they are part of medical therapies and treatments.
Infrastructure:
The pools or ponds thermal are properly conditioned, its infrastructure is basic and useful for use, has hallways, restrooms and cafeteria.
Opening hours:
Monday to Sunday: 05:00 a.m – 08:00 p.m.
What to bring?
You need to use bathroom implements such as:
Swimsuit or bathing suit
Towel
Personal hygiene items (shamphoo, soap)
Sandals
If you want to save on luggage, these tools can be rented or purchased in the same place.
Tariff 2015:
Price

2015

Hot Spring of Machupicchu Pueblo

PEN S/. 10.00
PEN S/. 5.00
PEN S/. 3.00