Machu Picchu is one of the places most visited in all around the world for its history and architectural beauty. The route to Machu Picchu takes about 3 hours, the road is signposted.
The schedule for admission to the Inca citadel of Machu Picchu is from 06:00 to 17:00 hrs.
How to buy Machu Picchu Ticket?
The purchase of Ticket to Machu Picchu through our website is simple, fast and safe; just follow these steps:
Check ticket availability for Machu Picchu, so that you have to select the date and archaeological site you want to visit.
The number listed by date is the number of spaces available, verify that this number isn't at zero.
The Ticket options Machu Picchu are:
Proceed with booking; for this purpose click the book now button and complete the form. The required data are important in order to make the purchase of your ticket.
Note: If the ticket is for student must send a copy of your ISIC Card. If it comes to children (8 – 17 years) send a copy of your Passport / Identity Document respectively.
Finally, Make the payment. When booking your ticket Machu Picchu we generate a receipt of payment Paypal, which is sent to the email address with which made ​​the reservation.
For more information about the trip to Machu Picchu visit our tips section.


Difference of Entrance Ticket to Machu Picchu
Ticket Machu Picchu Only:
Include: Allows entry to Machu Picchu, can be used as often as desired by the date indicated, respecting the schedules of entry and exit to Machu Picchu.
Schedule Input: 06:00 – 16:00 hrs
Ticket Machu Picchu + Huayna Picchu:
Include: Income to the Sanctuary of Machu Picchu and Huayna Picchu Mountain.
Schedule Input: (07:00 – 08:00 hrs. Group 01) – (10:00 – 11:00 hrs. Group 02)
Ticket Machu Picchu + Mountain:
Include: This ticket gives you access to the ruins of Machu Picchu and Machu Picchu Mountain located in front of the Huayna Picchu Mountain.
Schedule Input: 06:00 – 15:00 hrs
Ticket Machu Picchu + Museum:
Include: Tickets to Machu Picchu and the Site Museum Manuel Chavez Ballon.
Schedule Input: 10:00 – 16:00 hrs (except Sunday)
The ticket prices vary according to the type of ticket, nationality and age of the visitor, ie; if is foreign/national, adult/student/child. For more details on our prices please visit our section on Prices Ticket Machu Picchu.
Data requirements to Book Ticket Machu Picchu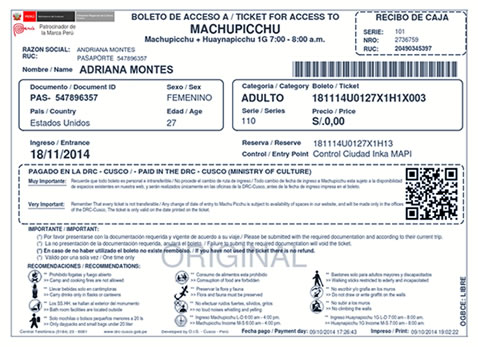 To make a booking you must complete the booking form or send an email with the following information:
Number of passengers.
Full names (As displayed on your passport).
Passport number or identify card.
Nationality.
Date of birth.
Any other important information you consider we have to know.
Note: If you have the ISIC card (International Student Identity Card), send a scanned copy of your ISIC Card. For child send a copy of your ID or passport as required.
In case you have any doubt or an additional question, feel free to write us or communicate directly via our online chat, we are always at your service to answer any question you can have.