Home → Tips → Sun Gate or Intipunku Machu Picchu
The Sun Gate in Quechua Intipunku is 1 km from the Inca City of Machu Picchu, it is the point where it concludes the Inca Trail that starts from km 77, 82 or 88 of the railroad Cusco to Machu Picchu.
Location:
It is located south of the Inca City of Machu Picchu at a distance of 1 km on the 2,720 m., In the Historic Sanctuary of Machu Picchu, province of Urubamba, department of Cusco.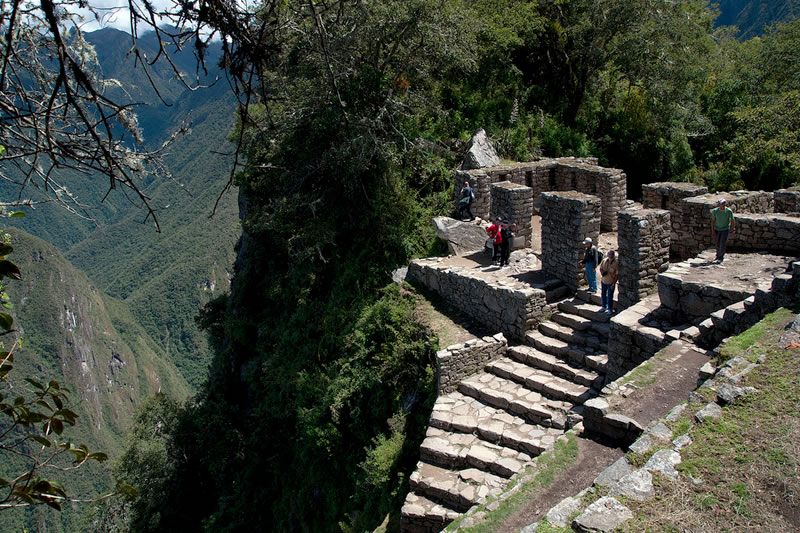 Intipunku or Sun Gate – Machu Picchu
Description:
The Archaeological Site of Intipunku is an architectural complex, surrounded by agricultural terraces and containment terraces. They are a set of enclosures Inca imperial style, with presence of lintels of doors and windows.
You reach this small set, by steep steps, worked in stone some are original and some restored. All it located in a high place in the middle of the Mountain and the classical landscape of the jungle. The Inca walls inside show the presence of trapezoidal niches. The ground floor is with some rock outcroppings.
Currently, on the terraces you can see only earth and some grass, but they sure were originally planted in the area of own agricultural products native to the area.
Funtion:
Possibly it was a place of control by the strategic location, would be the Point of Access to the Inca City of Machu Picchu from different points along the Inca Trail. This architectural complex has several enclosures, so suggests that, were rooms for the guards, who controlled the entry and exit of people.
The name Intipunku is probably due to its location, because very early sun makes its appearance through the same door illuminating the entire Inca City. For this reason it is attributed a religious function worship the Sun God.
Access:
The Ticket Machu Picchu in all its versions, allows you to visit the Intipunku or Sun Gate, so it is not necessary to buy any extra ticket.
You can also access the Inca Trail, which starts at Km 77, 82 or 88 of the railroad and lasts for 4 days and 3 nights depending on the starting point. The Inca Trail ends at this point, if you arrive early in the morning, from here you can see the sunrise. No extra charge, because it is included in the Ticket Inca Trail.
We remind you, you can visit the Inti Punku or Sun Gate with any type of Ticket Machu Picchu:
Ticket Machu Picchu, advises how to purchase your ticket Machu Picchu.
By Ticket Machu Picchu – Last Update, 09-07-2015