Machu Picchu Pueblo, is a town located in the District of Machu Picchu. Location where the railway station and the bus station that lead to the Archaeological Complex of Machu Picchu are located.
This village has a population of 5286 inhabitants, who receive almost a thousand and a half of visitors; Which have this locality as the beginning of their visit to the Sacred City of Machu Picchu. This town is almost entirely dedicated to commerce; Restaurants, hotels, handicraft markets, mostly aimed at tourists; You can find basic services, ATMs, bank offices, the Peruvian state office, pharmacies, a small health center, police station, Internet cafes, public telephones, souvenir shops, gifts, and the sales office Of the Entry Ticket to the Inca City of Machu Picchu. Aguas Calientes Aguas Calientes and the Museo de Sitio Manuel Chávez Ballón are a few minutes away from the village. In Machu Picchu Pueblo you can find 3, 4 and 5 star hotels,
Machu Picchu Pueblo is in the midst of abundant vegetation and a chain of mountains, which are the prolongation of the eastern Andean ridge, which rise, forming a valley landscape, next to the Vilcanota River, with precipices, ravines, and Creeks that descend from the glaciers to flow into the Urubamba River, in a valley that extends for more than 40 kilometers, through multiple ecosystems with exuberant flora and wild fauna everywhere, almost totally green in all directions. It welcomes all people who want to reach the Inca City, any traveler who wants to enter the Inca City of Machu Picchu, must pass through here; Likewise those who completed the hike, will find in this village what is necessary to relax after the long journey. It is a population, without urban planning, there is no airport, or roads, that join this town, with the city of Cusco, you do not need public transportation, or taxis, everything is very close to each other, and can reach almost any Place walking Apparently it is only necessary the train station and a bus station, which transport the visitors from the town to the archaeological zone of Machu Picchu, but at present also has a small heliport, which serves in most cases to attend emergencies.
Historical Review
Location
Weather
Tourist Attractions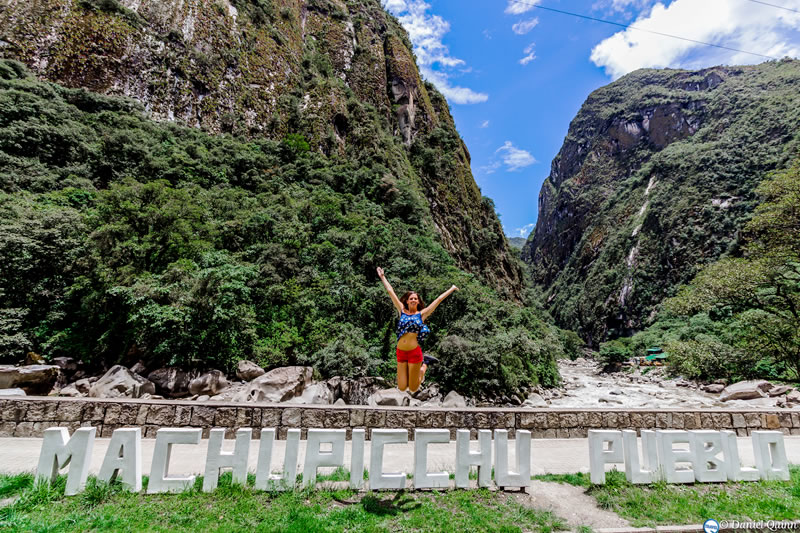 Machu Picchu Pueblo or Pueblo de Aguas Calientes
Historical Review
Machu Picchu is a town, which dates back to 1901, when for the first time a camp of railway workers was armed, whose project was to unite the people of Cusco and Santa Ana. The camp area had the name Maquinachayoq 110 km. from the City of Cusco and would become in the headquarters of the project.
Around this camp, railroad workers, who gathered with the few farming families settled in place, until 1920, this population was the central axis for accommodations of workers and their equipment, until the railroad was completed in 1931, and the people who settled in this place, they stayed.
The October 1, 1941, it was officially created as District. The village is inhabited by about 3,400 residents. Today, Machu Picchu is the last railway station, the route Cusco – Machu Picchu. The town has grown and has a good tourist infrastructure at all levels and receives 1,500 visitors a day.
Location
Machu Picchu Pueblo, is located south east of Peru, in the department of Cusco, province of Urubamba, district of Machu Picchu.
It has a height of 2040 meters, and is located at km 110.5 of the railway, Cusco – Hydroelectric.
It is at a distance of 6 km for the Inca City of Machu Picchu.
Weather
The climate of Machu Picchu is typical of the jungle, warm and temperate, with presence of rains during the months of November to March. The average temperature ranges between 8° C and 22° C throughout the year.
It is noteworthy that from April to October is dry season with bright sunshine for much of the day.
The minimum annual temperature is 8° C to 11.5º C, the maximum annual varies from 20º C to 26.7º C.

Tourist Attractions
Machu Picchu Pueblo it has an important cultural and natural heritage that today represents an attractive potential for the development of tourism, we have:
Thermal Baths of Aguas Calientes
The hot springs of Aguas Calientes is a natural area surrounded by mountains of over 400 meters, located approximately 800 meters from the village by the river Vilcanota, its waters come from the sub-soil of sulfur emanating from the rocks at various temperatures.
That is why its use is thermo-medicinal, as their natural properties and chemical combination, are recommended for medical treatments such as arthritis, rheumatism and skin diseases, also improves metabolism, block amounts of toxins and stress.
The climate is warm to hot, so you are in forest brow, the average temperature varies from 38 ° C (100.4 ° F) and 46 ° C (114.8ºF).
Schedule: You can access the hot springs, between 05:00 hrs. and 20:00 hrs.
Craft Market
This is a fair with exhibition and sale of local crafts, it's 208 stalls selling, with pedestrian access and connection to the train station and bus station. It is open from Monday to Sunday from 08:00 hours to 21:00 hours.
Museum Mockups and Customs of Machu Picchu
Located 1 block from the train station, in the urbanization Orchid A-9. You can see here the history and life of the District of Machu Picchu, Inca City scale models and variety of photographs of creation of the district of Inca city of Machu Picchu. It can be visited from Monday to Sunday from 09:00 hrs. to 22:00 hrs.
Site Museum Manuel Chávez Ballón
The Site Museum Manuel Chavez Ballon, is a 25-minute walk from Machu Picchu Pueblo. It is at the foot of Machu Picchu Mountain, at Km 112 – Puente Ruinas that crosses the Rio Urubamba, known as the old train station, to 1.7 kilometers to the foot of the mountain of Machu Picchu.
Here exhibit important lithic pieces, works of goldsmithing, ceramics, stone work, construction tools, mirrors, tweezers, knives, all samples that were found in the various archaeological excavations conducted in the Archaeological Park of Machu Picchu.
This museum has been organized in such a way that allows us to have an overview of the importance of culture and the Inca city of Machu Picchu. It can be visited from Monday to Saturday from 10:00 hrs. 16:00 hrs.
Botanical Garden
The Botanical Garden showcases an impressive diversity of flora and fauna among them are the most beautiful flowers such as begonias, bromeliads and the most beautiful orchids in the world, various shrubs, ferns, native trees. It is also the habitat of the most peculiar beings, such as birds including hummingbirds, orioles, parrots, tarangas and the "Cock of the Rocks" national symbol of Peru's wildlife, more than 400 species of colorful butterflies, insects they are rolled between leaves and branches, mammals and a complex diversity of fungi of different colors and sizes.
It is open all day, but we recommend a visit to 06:30 hrs. 16:30 hrs.
By Ticket Machu Picchu – Last Update, 26-04-2017