Home → Tips → Sacred Place Machu Picchu
Leaving the top and going south, after descending several steps, you enter a fairly smooth terrace, to what is called Sacred Plaza, perhaps because they could not find a better name, and possibly so named because in two sides in opposite ways, there are the most important temples in the sacred city, to access this site, you have to pass in front of a rock located to the left of the path, its form simulates a giant clam, following the direction of the summit, you can see seven steps, carved in a block of granite, and from the top of it, you will get a magnificent view at the top; at the top, has a platform with embedded stones, the platform can sustain without problems to three or four people, who wish to greet the rising sun.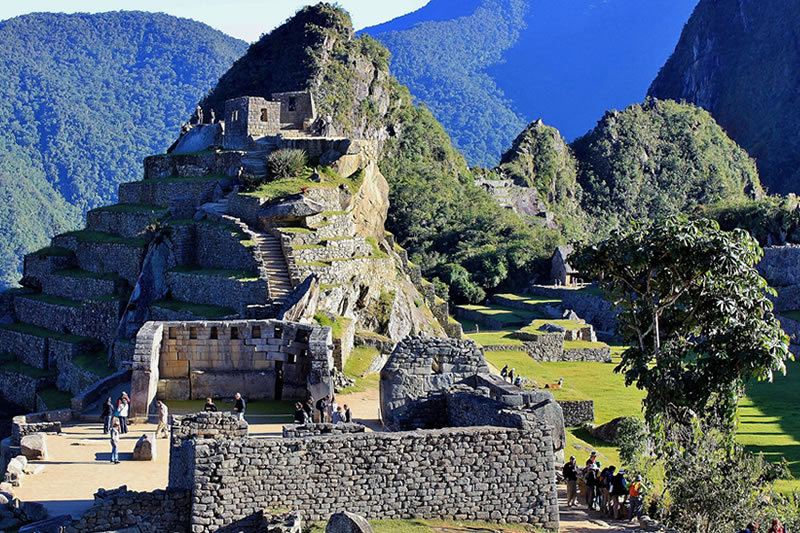 Sacred Plaza Machu Picchu
North of the rock are walls small structure about ten or fifteen feet in diameter, built with greater mastery, by the builders of the Empire, with blocks of white granite, chosen with great care, many of them apparently rectangular, the bigger of polygonal shape but all fitted perfectly, without any forge or glue.
The lower row consists of particularly fine blocks and quite long, to the left of the door, as you go going, you will notice that the lower half of the front wall is a single block of granite, and at various points in this building, you will find parts that seem to flaunt, a certain kind of whim and playful wit.
The corner carved from a single huge piece of granite, which in turn is a small part of the outer wall; the Inca Roca's palace in Cusco, has a stone that the Spaniards made famous for having fourteen angles, this stone has thirty-two.
By Ticket Machu Picchu – Last Update, 05-11-2015