Home → Tips → Sacred Rock Machu Picchu
The Sacred Rock is a worked lithic piece of 3 meters high and 7 meters wide, located within the City Inca, north and walk from the entrance to Huayna Picchu and at the foot of the famous urban area.
The rock was worked and seems to have Cerro Pumasillo silhouette which is located at the back of the rock also known as "Yanantin".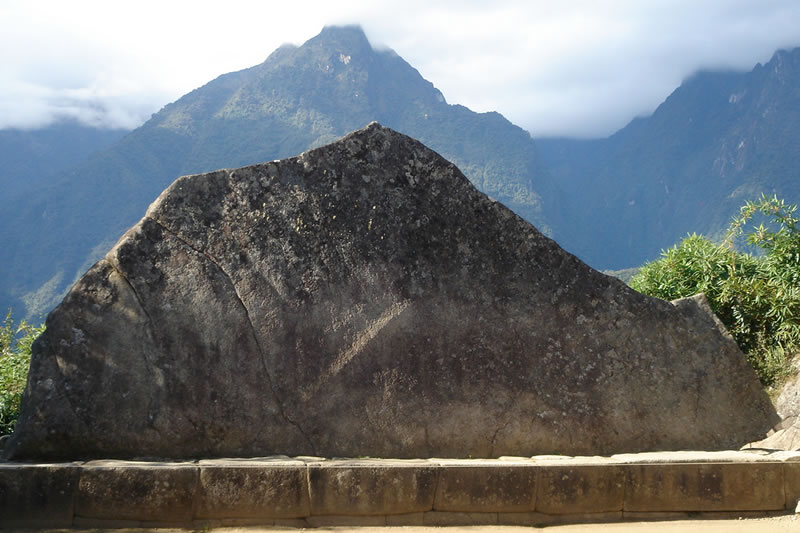 Sacred Rock of Machu Picchu
It is part of an ensemble, it is located at the center of two huayranas located facing each other and separated by a courtyard with high ceilings, it is clear that the Callancas were some sheds that were used to accommodate people who would witness a religious ceremony.
Apparently the rock is like an altar, a central and important element in an area dedicated to the worship of Apu "Yanantin", it can be deduced for its strategic location. Not only the Inca culture had a high knowledge of the cosmos, to the cultures that have preceded us, cosmology was a worldview where live all living beings.
The Incas worshiped the mountains were their tutelary gods, "Apus". Currently, the Andean man continues to this conception of life and seeks to live in harmony with the earth and continues to offer to the Apus, respect, veneration, performing ceremonies to their Apus.
By Ticket Machu Picchu – Last Update, 22-07-2015