Home → Tips → Temple of the Condor Machu Picchu
It called "Temple of the Condor", a sector of Machu Picchu, located in the neighborhood of Hurin, whose access is through a passage near the main square of the entire City, south east of the Mortars Sector; it is a set of conditioned buildings to the natural shape of the caves, taking advantage of the contours of the rocks. At the top, there are some walls of imperial Inca architecture, with trapezoidal doors the size of a person; the wall has blind windows or hornacinas.
It is an area where you can see huge rocks and excel especially two of them, to which they have been adapted stone walls; because they are located vertically, look like the wings of a bird, on landing, it is for this reason that it relates to a stone carved in the floor that clearly represents the head, collar and body of a condor; hence, the name of the Temple of the Condor.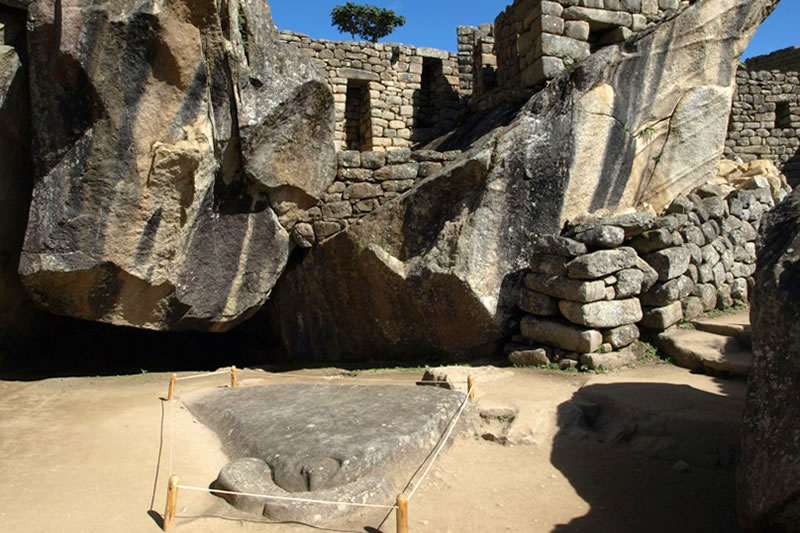 Temple of the Condor Machu Picchu
It is noteworthy that the Condor was a sacred mystical bird, a deity, so it would not be strange that the Incas, have wanted to represent this idol in a special place, for, religious ceremonies, and leave offerings in rituals sacred, probably related to agriculture.
However, it remains a challenge for archaeologists because if it had been a temple or shrine, because the sites do not have an architectural style, religious as the Temple of the Sun, for example. It is recalled that the possible functions and names of all areas of the City of Machu Picchu, were taken from the arrival of Bingham, by association to different indicative of the moment; not always correspond to the originality of the monument to the function fulfilled at the time for example, the very name of Machu Picchu, is questioned. So, it is very important to refer to the Andean culture, to know what could be the potential role, the enigmatic buildings left by the Incas.
By Ticket Machu Picchu – Last Update, 09-07-2015