Home → Tips → Train to Machu Picchu?
There is two companies, responsible for providing the transport service railway to Machu Picchu or Aguas Calientes, where you will find the impressive Inca City of Machu Picchu.
Peru Rail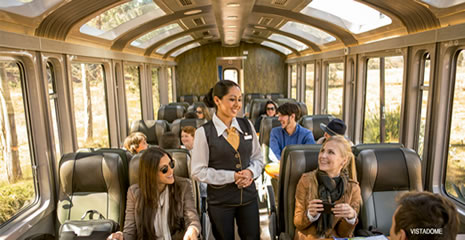 It is the company responsible for operating the route to Machu Picchu. It has Peruvian-British capital and operates in Cusco since 1999, instead of the Peruvian Company "Enafer Peru".
It has different trains, services and rates. For more information, contact us info@ticketmachupicchu.com.
Vistadome: It's a train, whose cars are spacious with panoramic windows and surrounded entirely of glass; which, allows you to take photos from different angles. Offers assistance on board, air conditioning, heating and leather seats. It has attention of typical meal on board.

Expedition: The expedition has cars completely covered with panoramic windows and onboard service.

Belmond Hiram Bingham: It is an exclusive luxury train with an all inclusive service. This service has 4 cars; dining car, bar car, kitchen car and observatory. It can carry 84 passengers. The service includes: appetizers, wine, musical entertainment, a tour guide for every 14 passengers, tickets and transportation to Machu Picchu, gourmet dinner.
Boarding stations:
There are three boarding stations, for the three types of trains:
Station of Poroy (Cusco)

Station of Ollantaytambo (Ollantaytambo- Collana- Valle Sagrado)

Station of Machu Picchu
Inca Rail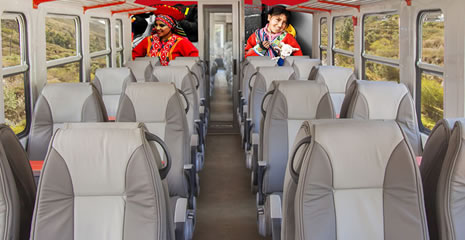 It is a Peruvian company, alternative to Peru Rail, which provides rail transport services Ollantaytambo to Machu Picchu for domestic and foreign. It's part of the business group CROSLAND has a fleet of nine self-wagons "Inca Train", seven Executive Service with capacity for 42 people, one of First Class with capacity for 30 passengers and a Presidential wagon with capacity of 8 passengers, it has onboard service.
Inside, the cars have been coated and worked by Peruvian technicians, it has comfortable seats, folding tables and panoramic windows.
The train to Machu Picchu
It began operations in June 2014, has 6 car train cars are modern interior design with comfortable seating and folding tables, acclimated with Latin American music, onboard service, has a selection of beverages made with fruits and Andean herbs.
The Inca Train
It offers 3 classes of service:
Business Class: There are seven car train, with capacity for 42 people cars that feature large panoramic windows, acclimated with Latin American music, service on board with choice of hot and cold drinks and onboard sales of handicrafts.
Schedule: Three daily service from Ollantaytambo to Machu Picchu and Machu Picchu to Ollantaytambo.

First Class: A car with more space on board, with 30 seats. It has background music, fresh flowers and covered tables. A welcome cocktail, lunch and / or gourmet dinner are provided.
Hours: Daily frequency.

Presidential Class: Seating for 8 passengers, offers wood-paneled car and decorated with handmade tapestries woven by artisans of Cusco. The wagon Inca Princess of the presidential class is a car with many details in its decoration, food on board, open bar and has large panoramic windows.
Schedule: Opera upon request, every day.
By Ticket Machu Picchu – Last Update, 03-07-2015